Mediterranean culture cannot be fully understood if it is not near the sea sitting round a table. If, in addition, you share a paella at this table (always set in the middle and served with a wooden spoon), you will be witness and participant to one of the ceremonies that most connects us and that best defines us.
At Casa Carmela, we have been making this liturgy possible for nearly 100 years, where fire plays an essential role and in which tradition, quality and local raw materials do the rest.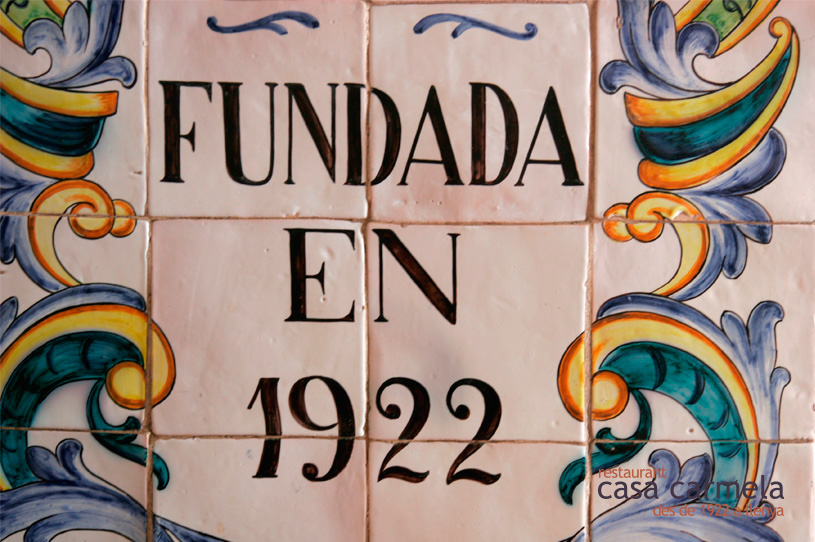 Restaurant with its own history
The history of Casa Carmela is the history of a family that has worked for four generations to make this restaurant – which started off as a humble shack – into a renowned culinary landmark throughout Spain. The legacy of Don José and Doña Carmen, on which Casa Carmela was founded in 1922, carries on today, visible and alive in every day and in every flavour.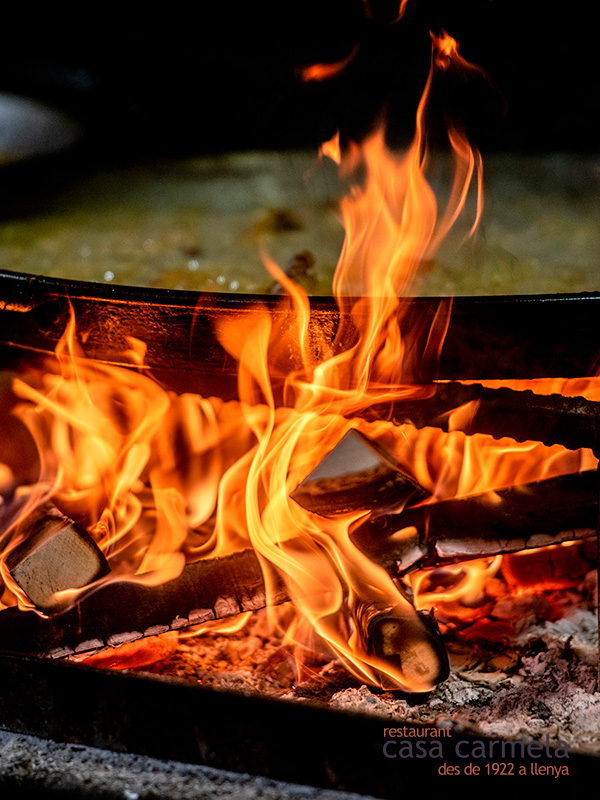 The Paella of Casa Carmela
At Casa Carmela we continue preparing Valencian paella following the steps that our great grandmother Carmen passed on to us. We always use orange wood and only the freshest ingredients from the earth to attain a perfectly thin layer of rice and smoky firewood taste that have elevated this dish to an icon of Valencian cuisine.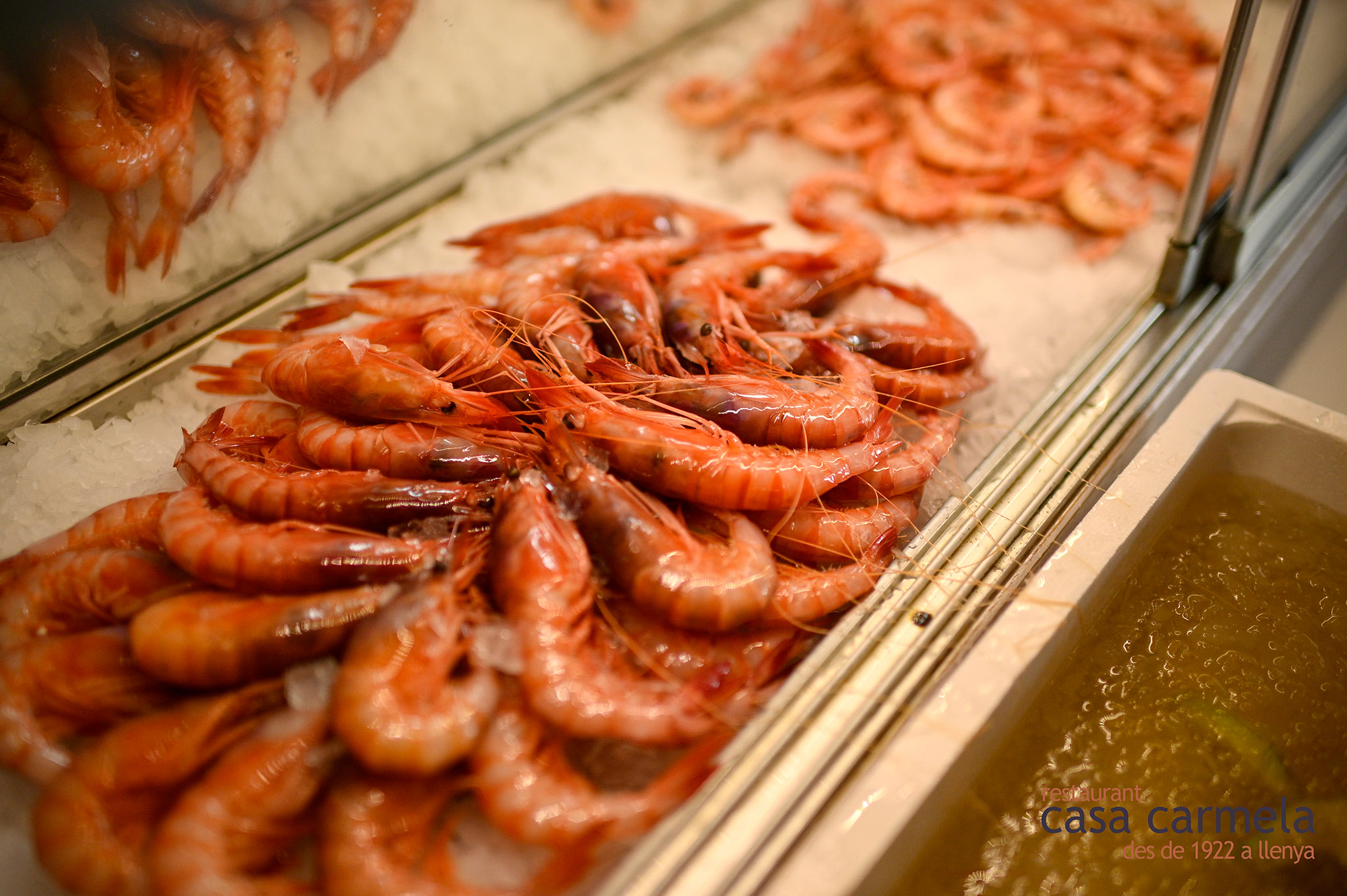 Fresh products
Our menu is defined by the products that the sea and kitchen garden offer us as gifts every day. At Casa Carmela, we work only with fresh fish and seafood fishmongers bring us directly from the fish market: Dénia prawns, beach langoustine, Galician clams, Valencian clotxina (mussels), beach tellinas (wedge clams)… The chicken, rabbit and duck that we use is brought to us from our lifelong supplier, from his Huerto de Vera farmyard, and both the garrofó (white beans) and ferradura (green beans) we use in our paellas are native varieties.
On Malvarrosa
Casa Carmela is located on the beachfront of Malvarrosa, one of the city's most traditional neighbourhoods. The Mediterranean Sea, with its light and colours, its scents and sounds, is our daily backdrop. A privileged experience that involves all of your senses.
Traditional Valencian cuisine
Wood-fired paellas are our speciality. On our menu, guests can choose from between 20 types of different rice dishes. Our arroz del Senyoret (or young gentleman's rice, as all the seafood is peeled or shelled and ready to eat), lobster paella and beach langoustine paella are just a few of our customers' most-beloved favourites. We also have our version of the typical seafood fideuà (a thin noodle cooked in a rich seafood broth). Our Valencian paella must be booked in advance, as we only make a limited number each day due to the long and involved preparation time.
The rest of our culinary offering is nourished by traditional Valencian age-old recipes, so our emblematic esgarraet de pimiento (garlicy roasted red pepper) holds a place of pride, to which we add mojama (salt-cured tuna) and salt cod, or our salad of local sliced tomatoes with chunks of tuna loin.
As appetisers before the main rice dish, perhaps some warm grilled octopus, espardenyà (named for its strange yet tasty mix of ingredients including eel, meats, potatoes, chili pepper and even a poached egg…) tempura sea anemone, batter-fried fresh squid, or a few of our classics: Valencian mussels or beach tellinas (wedge clams). We also have fish and seafood brought fresh from the fish markets and stews like monkfish 'nougat', our version of all i pebre (garlic & pepper) in which we substitute eel for monkfish, swimming in a picadillo homemade with a mortar and pestle.
WHERE WE ARE
Carrer d'Isabel de Villena, 155.
46011 València.
Schedule
Tuesday to Saturday, from 13:00 to 16:00
Closed on Sundays and Mondays